Forcepoint X10G

Scalable Enterprise Performance that Allows for Real-Time Threat Defenses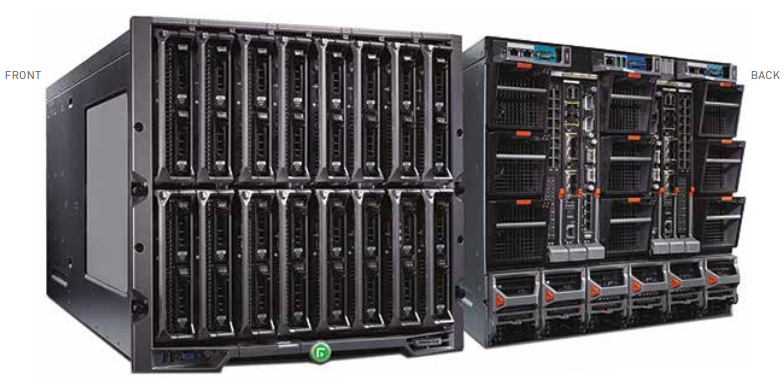 Click here to jump to more pricing!
Overview:
Why don't traditional defenses stop advanced attacks and data theft? Simply put, they are no match for dynamic downloads, payloads, exploit kits and callbacks utilized by cybercrime. Now, Forcepoint changes the game with real-time, data-aware Web and/or email defenses that scale for enterprise deployments on the Forcepoint X-Series appliance.
Why are X-Series Appliances Revolutionary?
Traditional enterprise security performance comes with a hidden cost — lack of real-time in-line defenses, which are required to effectively analyze today's social networking sites and increasing amount of SSL traffic. To achieve fast performance in high traffic environments, traditional defenses have to rely on selective analysis, cloud-assist ratings blind to SSL traffic and a multitude of appliances. The Forcepoint X-Series appliance utilizes the proprietary ACE technology that enables real-time composite defense assessments of inbound and outbound traffic in high traffic environments.
Unmatched Enterprise Performance and Extensibility
Forcepoint X10G blade server/chassis architecture reduces rack space (10U) and increases performance to multi-GB throughput.
Scalable to 16 blades, each with 12 processing cores, 32G RAM and 1.2TB HDD space.
10G network interfaces, four power supplies, chassis management controller, and dual internal switches.
Base configuration starts with two blades and scales from 10,000 to 100,000 users depending on load factors.
Real-Time Data-Aware Contextual Defenses
Real-time Web and/or email security, data, and content classifiers with ACE composite defense assessments, leveraging over 10,000 analytics updated in real time.
Data-aware contextual security against data theft and loss, leveraging an integrated enterprise DLP engine.
Threat intelligence from the Forcepoint ThreatSeeker Intelligence, monitoring for malicious web and email activity in more than 155 countries, delivering real-time threat intelligence to customers at an average rate of 3.2 per second.
Unified Forcepoint TRITON architecture, including threat intelligence, a unified console and unified policies and reporting, for lower TCO.
The Forcepoint difference: ACE (Advanced Classification Engine)
Forcepoint ACE provides real-time, inline contextual defenses for Web, Email, Data and Mobile security by using composite risk scoring and predictive analytics to deliver the most effective security available. It also provides containment by analyzing inbound and outbound traffic with data-aware defenses for industry-leading data theft protection. Classifiers for real-time security, data and content analysis — the result of years of research and development — enable ACE to detect more threats than traditional anti-virus engines every day (the proof is updated daily at http://securitylabs.forcepoint.com). ACE is the primary defense behind all Forcepoint TRITON solutions and is supported by the Forcepoint ThreatSeeker Intelligence Cloud.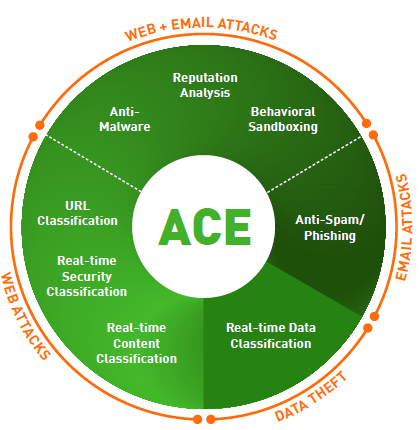 Features and Benefits:
X-Series Features:
Enterprise performance and scale
X-Series blade server/chassis provides extensible scalability and performance from 10,000 to 100,000 users, depending on load factors.
Advanced malware and data theft protection
From inbound attack activity to outbound data theft or botnet communications, Forcepoint Web and Email security solutions identify threats from the most benign scam to APTs and other Advanced Threats.
Containment defense
Integrated enterprise DLP engine enables data theft and loss protection, plus detection of custom encrypted files, password files, drip (cumulative) DLP, plus geolocation and destination within policies.
Leading security intelligence
Forcepoint ACE technology applies over 10,000 analytics in real-time to identify zero-day threats. Exceptional effectiveness is maintained through the Forcepoint ThreatSeeker Intelligence which receives up to 5 billion potential threat indicators each day from over 155 countries around the world, providing customers with an average of 3.2 updates per second.
Zero-day threat protection and research
Forcepoint Security Labs is located around the globe with experts in malware reverse engineering, obfuscation, big data clusters and analysis, querying, and statistical models. Machine learning provides key advancements in predictive defenses used in ACE.
Enterprise support and certified partners
Forcepoint award-winning Mission Critical Support (MCS) option includes a dedicated Technical Account Manager (TAM). Certified partners have full expertise to assist with deployments and configurations.
X-Series Benefits:
Hybrid deployments can use cloud email cleansing to reduce bandwidth and optimize appliance performance, plus email URL sandboxing for real-time phishing protection. Hybrid web deployments can equally protect remote users with ACE defenses.
Fully-integrated enterprise DLP helps customers quickly achieve and demonstrate compliance and data security measures.
Unified TRITON architecture, security intelligence, unified console and unified policies and reporting all enable a lower Total Cost of Ownership (TCO).
Supports Forcepoint Web Security and Forcepoint Email Security.
Reduce Risk of Advanced Malware and Data Theft
Upgrade secure web gateways with scalable real-time contextual defenses that surpass traditional AV and URLfiltering defenses and avoid the trade-off of performance over security.
Identify threats in email from the most benign scam to APTs and other Advanced Threats, as well as providing controls for spam and other unwanted email traffic.
Contain infected systems, b lock command and control communications, and mitigate data theft associated with drip (behavioural) DLP, custom encrypted files, password file theft, analysis of confidential text images with optical character recognition (OCR) and geolocation destination awareness.
Drill down into reporting forensics by severity, geolocation, group or users with detailed analysis of threat characteristics, command, actions, and evidence of data theft.
Proven Forcepoint Architecture, Leadership and Trust
Proven Forcepoint architecture that unifies Web, Email, Data and Endpoint security with appliance, cloud, software and hybrid deployments.
Specifications:
Forcepoint X10G Chassis Specifications
CPU/MEM/HDD
See blade specifications
NIC/NET
2*20 port GigE Switches, External: 4*1000Baset-T + 2*10G SFP+
Power
4*2700W, N+1 redundancy, Hot Swappable
Dimensions
10U chassis supporting 16 half height server blades, 29.7" D x 17.6" W x 17.3" H (75.4cm D x 44.7cm W x 44.0cm H)
Weight
Empty chassis only – 98lbs (44.5kg), chassis w/ all rear modules (IOMs, PSUs, CMCs, KVM) - 176lbs (79.8kg), max fully loaded w/ blades and rear modules - 394lbs (178.7kg)
MISC
Non-redundant CMC w/SSO to iDracs, 9 hot-pluggable redundant fan modules
Forcepoint manufacturer has verified product compliance with the following:
FCC / ICES / EN55022 / VCCIBSMI / C-Tick / SABS / CCC / MIC Class A and UL60950-1 / Verified to comply with RoHS Directive / Energy consumption and noise emissions in accordance with ISO 9296 (both for M1000E and M630)
Forcepoint X10G Blade Specifications
CPU
2 x Intel Xeon E5-2620
Memory
32GB
HDD
Capacity 600 GB (2 x 600 GB, RAID-1)
Media
DVD ROM - Portable
NIC/NET
2 Broadcom LoM GigEs
MISC
iDRAC 8 Enterprise card for lights-out mgmt
Power
Supplied by chassis
Dimensions
Half-height blade server, 21.4" D x 1.98" W x 7.57" H (54.43cm D x 5.03cm W x 19.23cm H)
Weight
12.56 lb (5.7 kg)
Both chassis and blade servers for the X10G come with an NBD warranty for 36 months free of charge. 60 months period and 4 hour Onsite warranty optional.
Pricing Notes:
Pricing and product availability subject to change without notice.